Buying and selling cryptocurrencies in minutes is nowadays indispensable in the growing NFT market and the economy that is currently being implemented. Binance is an Exchange platform where you have access to hundreds of all coins and trading pairs.
Dip your toes into crypto for the first time the right way by knowing and understanding how to properly take advantage of each option that the number one Crypto Exchange in the world, Binance, has to offer to its users. Here you will find a guide that will take you by the hand when you are about to take your first step into this exciting journey into the world of cryptocurrencies.
Beginners Guide
Signing up to Binance is simpler than you might think. A Binance account will be your entry to cryptocurrency trading, and before jumping into buying your first bitcoin or BNB, you will have to open an account, and here we are to tell you how.
Look for the Binance homepage and click Sign up in the top right corner.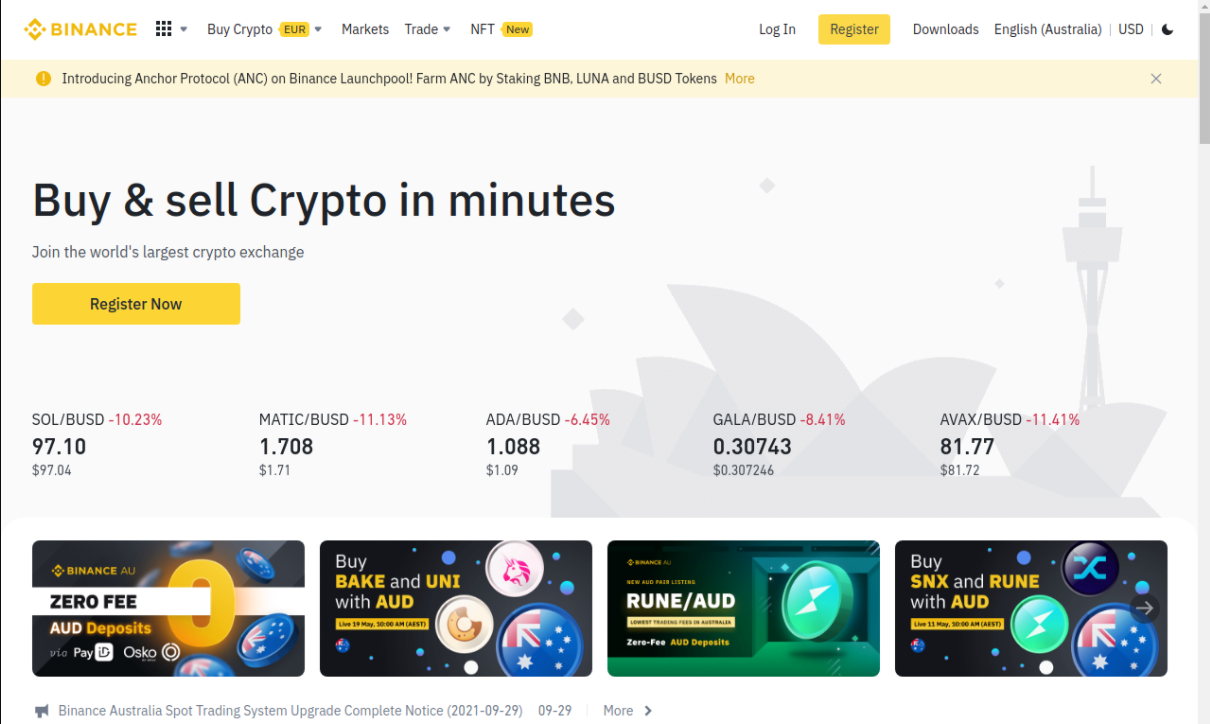 Enter your email address and choose a strong password. You could also sign up by using your phone number instead of an email address. And if someone has given you a referral code, now is when you should enter it.
Keep following the instructions to verify your account by registering a code sent to the email address or phone number you've just entered.
When your account is verified, everything will be ready in your Binance account for you to  be able to buy cryptocurrencies, so let's see how the process of preparing your first purchase goes.
How to buy cryptocurrencies on Binance
Binance offers the greatest selection of currencies with which you can buy crypto. But before getting to execute any purchase, you will have to complete the identification process known as Know Your Customer (KYC). KYC is a process that helps the users to ensure they are who they say they are, and that they are meeting the legal requirements.
To complete this process all you have to do is to use any of your identifying documents, selecting one of the required by KYC, which includes:
Driver's License / Government-issued photo ID
Passport
Social security number
PAN card
Voter ID Card
Then, after completing the KYC process, you will be able to purchase the cryptocurrency of your choice. You will have the opportunity to choose the payment method you are most comfortable with.
You can use your credit/debit card, which is usually the easiest option for new users, or deposit funds into your Fiat and Spot wallet, where you will transfer fiat money from your bank account and use it on the exchange.
Or you can also use Binance P2P, acquiring cryptocurrencies directly from other users with Binance's peer-to-peer service. But what is the Binance P2P service really?
Binance P2P
Binance P2P is a marketplace that works under the concept of escrow deposits. This platform allows customers to use payment methods directly in their local currency, from bank transfers to payment processors without any kind of commission.
For simplicity, Binance P2P functions as a person-to-person bitcoin exchange marketplace. In order for this to be a safe place for its customers, an escrow method is used. What this means is that for every cryptocurrency that is purchased, it must be previously deposited into the seller's Binance account, all this happens under the Custody Model.
At the moment an exchange contract is opened, the amount of money that's about to be purchased is blocked in the seller's wallet until the buyer verifies the payment and proceeds to release, or cancel it. In case of any anomaly or issue, Binance counts with a dispute system for conflict resolution.
Which coins and cryptocurrencies are available on Binance P2P?
In Binance P2P you can trade with 5 cryptocurrencies: BTC, USDT, BUSD, BNB, ETH and DAI. You can also deposit any cryptocurrency that's available on the Binance trading market, exchange them for any of these 5 on the trading platform, and sell them within the P2P market. Keep up to date with the binance official website's current listing through these links.
https://support.binance.us/hc/en-us/articles/360049417674-List-of-Supported-Assets
The currency you choose to use is not limited to your geographic location, as long as you have a payment method in your name in any available foreign currency. Trading has never been simpler and safer.